BACKGROUND
The Heritage Roses Group, formed in 1975, is a fellowship of those who care about Old Garden Roses, Species Roses, Old or Unusual Roses - particularly those roses introduced into commerce prior to the year 1867. Its purposes are to preserve, enjoy, and share knowledge about the Old Roses.

The Heritage Roses Group of the United States inspired the establishment of similar groups in Australia, England, New Zealand, and France.

In the USA, members are located across the country, in five different Regional Groups: SouthWest (includes all of California), NorthWest, SouthCentral, NorthCentral, NorthEast, and SouthEast -- with a Regional Coordinator for each area.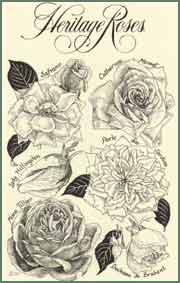 ACTIVITIES AND PROGRAMS
Heritage Roses Members receive a quarterly national newsletter, The Rose Letter, which is mailed in February, May, August, and November. This periodical offers articles written by members and others on a wide variety of rose-related subjects. Subjects covered regularly include book reviews, growing tips, plant exchanges, and a calendar of events.

Where sufficient members exist, local HRG chapters have been formed. These chapters work together to educate members and the public, to share information and research, and to promote, and participate in, a range of preservation efforts. Some of these "sub-groups" also publish newsletters. Frequency of chapter meetings vary from area to area and group to group. Gatherings may include slide lectures, plant sales, and swaps and raffles, and visits to significant rose sites. Ask your Regional Coordinator to refer you to a nearby local group.
MEMBERSHIP
Dues are currently $15.00/year, for four issues of The Rose Letter.

Dues are renewable on a quarterly basis, depending on when you join. Overseas memberships are served by First Class Air-mail and are $26.00 for the year, payable in U.S. funds.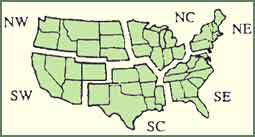 To join, please refer to the map to for the location and address of your Regional Coordinator. Send dues directly to her/him. Checks should be made out directly to the Coordinator. If you are joining from outside the U.S., dues may be sent to any one of the Coordinators.
MEMBERSHIP INVITATION
Please send the following information to your regional coordinator along with your check (payable in US dollars). Checks should be made out to the regional coordinator in your area.
Name__________________________________________________________________
Address________________________________________________________________
City___________________________State_______Zip_____________Country_______
Phone: Work___________________________Home____________________________
FAX_________________________________E-mail_____________________________
Organization Affiliation/Area of Interest_______________________________________
_______________________________________________________________________